Come trek the Simien mountains!
The Simien mountains are one of Ethiopia's national treasures. At 3500ft, they provide beautiful 360 degree scenery for tourists who enjoy hiking. I'm Ginbie (more about me below!) and I've lived here all my life and shown countless people around. I'd love to take you on the trip of a lifetime and show you all the natural beauty that the Simiens have to offer.
I provide:
Hotel reservations
Cars to and from airports and surface transports for those who want to drive across the natural and historical sites
Guides
Professional cooks and cooking ingredients
Camping tools: tents, sleeping mats, sleeping bags (I recommend bringing yours if you can)
Tables and chairs on the mountain trek
Riding and pack animals while you are trekking
Mule keepers
Flight bookings
Itineraries
I offer customized tours that suit your schedule from one to ten days. Here is a typical five-day itinirary: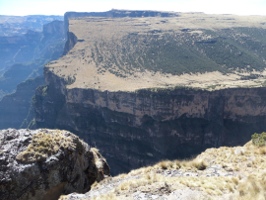 Day 1
Drive from Gondar to the first campsite (Sankaber) in the Simien Mountains national park (2:30 hrs drive, 2-3 hrs). Camping at Sankaber (3250 m).
Day 2
Walk to the second campsite, Gich. On the way, see the Jinbahir waterfall (450-500m). Five to six hours walk, camping at 3600m.
Day 3
Acclimatization day and walking around Gich, mainly to see the three most spectacular view points (Imet Gogo, Seha, Kedadit). Four hours walk, Camping at Gich again.
Day 4
Walk from Gich to Chenek, through a mountain peak Inatye (4070m). Six to seven hours walk including break. Camping at 3600m.
Day 5
Climb up 800m to reach one of the highest mountain peaks in the Simien Mountains, Buwahit (4430m) and back down to Chenek. It takes five to six hours for both ways, and then drive back to Gondar.